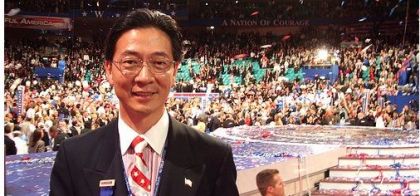 Bridgewater Councilman Michael Hsing, a Republican-turned-independent to run for Congress in the 7th District, doesn't see his role in the race as a spoiler for Republican Leonard Lance. Rather, he sees himself as a pinch hitter coming in to relieve Lance, who he doesn't think can win.
"If I compare Stender and Lance, certainly I will support Lance. But I know Lance probably will not win. If I believed Lance would win, I would not challenge him," said Hsing. "He doesn't have fire in the belly, and I have at it."
Hsing pointed to what he said was Lance's less-than-impressive 40% victory in the Republican primary (although he did face six opponents).
"I can get it done. I'm really the reliever coming in at the 9th inning and trying to save the game."
A Stender-commissioned poll last week showed her running three points ahead of Lance – 36-33% — while Hsing came in with 9% of the vote that would presumably belong to Lance. Tom Abrams, an anti-war candidate, polled at 2%.
And Lance isn't likely to drop out and make way for Hsing.
Hsing's campaign manager – his 21-year-old son, Arthur – acknowleged that his father is taking votes away from Lance for the time being. But he doesn't expect it to stay that way.
"While we may be taking votes from Lance right now, what we intend to do is take votes from both," said Arthur, highlighting his father's economic plan and his work towards preserving "green space" and instituting "smart growth" in Bridgewater. "Nine percent is not our goal. Ten or 15 percent is not our goal. We have a strategy."
Hsing shocked political observers when it was revealed that he actually had more cash on hand than Lance as of the June 30th filing deadline, with about $100,000 to Lance's $81,000. That will likely change after next week, when President Bush comes to New Jersey to raise money for Lance and fellow Republican congressional candidate Chris Myers.
Hsing wasn't sure what his current total is, but estimated it at about $160,000.
"We're shooting to get to a quarter million really soon," he said.
If Hsing doesn't win this race, he said, he will probably run for council again next year. Whether that will be easy is another question, since he's annoyed establishment Republicans in Somerset County by bucking the party and going it alone. If Stender's poll is accurate and Hsing does wind up as a spoiler for Lance (which Somerset Republican Chairman Dale Florio doubts), he could face a Republican challenge.
"I would probably run for council again, whether that would be under the Republican or independent tag, we'll see," he said.