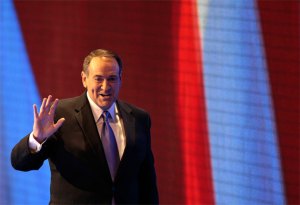 Former Arkansas Governor Mike Huckabee has announced on his Web site that his weekend variety show "Huckabee," will be airing for the first time on Fox News this Saturday and Sunday night.
From Mr. Huckabee's post:
All of us have been talking about the show I will be doing for Fox News. I wanted to bring you up to date on what is going on.
The show will be called "Huckabee." I'm sure the name will make it easy for all of you to find it. "Huckabee" will air this Saturday and Sunday at 8 PM Eastern time on Fox News Channel.
So has Fox News actually picked up the show for an extended run? Or is Saturday night's program merely a pilot?
We called Fox News to find out. A spokesperson referred questions to Mr. Huckabee's agent.
We'll update once we hear back.