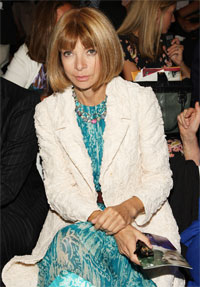 On Friday, we wrote about a particularly unflattering post about Anna Wintour on The Huffington Post. At the time, we wondered why the post existed at all—it consisted entirely of a grotesquely blown-up photo of the 58-year-old Vogue editor at a fashion show—and why it was on the site's Media vertical. Many commenters to the post were equally baffled. (Jezebel and Gawker subsequently wrote about the Huffington Post's post as well.)
An email to Arianna Huffington about the post and where it fits in with some thoughts she shared in her recent book, On Becoming Fearless, was answered by the site's editor, Roy Sekoff:
The Wintour post appeared on our Media page because she is a major media figure. In On Becoming Fearless, Arianna does indeed talk about aging and body image, and about beauty emanating from within. I don't think this post is inconsistent with any of that. I guess it's all in how you look at it. For me, I look at the Wintour pictures and think she looks great and exudes the kind of self-confidence and self-assurance that Arianna called 'the ultimate turn-on.'
Mr. Sekoff also noted that the post now feature's Senior Features Editor Katherine Thomson's byline.
Here are some insights Ms. Huffington shared in On Becoming Fearless:
The first step to becoming fearless about our physical appearance is knowing that our fears of inadequacy are manufactured and mass-marketed. The fear-generating message of perfection we measure ourselves against comes not from Moses on the mountain-top but from the multibillion-dollar cosmetics and fashion industries whose profits are directly tied to our levels of insecurity. (p. 20)
[…]
We need to be in touch with the natural cycle of life and let our preoccupation with appearances fade as we become more engaged in causes larger than ourselves. (p. 147)
[…]
The peace that eluded us in the middle of life's tumult when we were younger is one of most sacred gifts as we grow older. (p. 149)