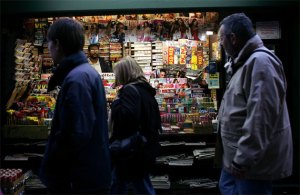 The Huffington Post has hired former Chicago Tribune managing editor and media columnist James Warren to write a weekly media column for its Web site. The column's title will borrow the old one he had at the Tribune, "On Magazines."
In the '90s, he made his biggest splash when he became the Tribune's Washington bureau chief, flipped the bureau upside down and railed against the "media elite" that dominated the D.C. scene in a weekly column. Here's a story from the N.Y.U. Journalism Web site:
He also turned his Sunday column into a bully pulpit, exposing the clubby ways of the D.C.'s star journalists—most of whom worked for television networks with large public visibility. He campaigned against these celebrity journalists who accept fat paychecks for giving speeches to the very organizations they cover. His targets included Lesley Stahl of CBS' 60 Minutes; Tim Russert, the host of NBC's Meet the Press; Jack Nelson, veteran reporter and then chief of the Washington bureau of the Los Angeles Times.
His number one target however, was Cokie Roberts, an ABC News commentator and senior news analyst for NPR. Dubbing her as "a doyenne of Washington's mediatocracy," Warren chronicled Robert's speechifying in his regular column, "Cokie Watch."
"Cokie Roberts […] who in Washington is as close to social media aristocracy as one gets and also queen of the moonlighters, took twenty thousand dollars form one health-care association right smack in the middle of the very health-care debate she was covering as the network's congressional reporter," he wrote in one installment.
…
Warren's criticism led number of news organizations such as Time Magazine to draft new policies to regulate the practice of honoraria. Yet others were highly critical of his work. "Here's a guy who came to Washington, knows nothing about these reporters, and smarts off a lot," said Jack Nelson in the Columbia Journalism Review.
In August, Ms. Huffington told the Los Angeles Times' James Rainey that she wanted to beef up her media coverage, and it appears she's doing it.
Here's the release from the Huffington Post:
JAMES WARREN'S LONG-RUNNING MEDIA COMMENTARY
MOVING TO THE HUFFINGTON POST
Former Chicago Tribune "On Magazines" Column Becomes HuffPost Blog to Appear Every Sunday
New York, NY, September 25, 2008 — The Huffington Post, a leading news and opinion site, announced today that James Warren, recently departed Managing Editor of the Chicago Tribune, will be contributing a weekly blog post, On Magazines, which had formerly appeared as a column in the Chicago Tribune. Warren will continue to cover a wide range of magazines and journals in his blog, which will appear each Sunday and which debuts on October 5th.
"I have been an obsessive reader of Jim's column for years, so I'm really delighted that I can now be reading it on HuffPost," said Arianna Huffington, co-founder and editor-in-chief of The Huffington Post. "Jim uses magazines as a vantage point from which to observe our culture. Like The Huffington Post, his interests are wide-ranging, so he'll be offering his insights on everything from People magazine to The Wilson Quarterly, as well as uncovering hidden nuggets buried within obscure journals or overlooked in mainstream publications."
Said Warren: "Like a dogged parole officer, the magazines column has trailed me for nearly three decades, no matter my day job. If I had a buck for every one I've written about which is no longer with us, I could fly business class to Beijing. It's part and parcel of a truly vibrant, competitive industry on which I've had a neat window. Now, thanks to the surrogates of the Tribune's new proprietor, and with my beloved Yankees out of the playoffs, I've got a little extra time. So I shall return to the fold and be reminded that, yes, despite the dumbing-down of American culture, there are armies lot of ardent, serious readers out there."
Warren's magazine column first appeared in 1979 in the Chicago Sun-Times when Warren was a staff legal affairs and labor writer. He brought his magazine column to the Chicago Tribune, where he continued to write it even while serving as Washington Bureau Chief for eight years. Warren continues to be a political commentator on MSNBC.