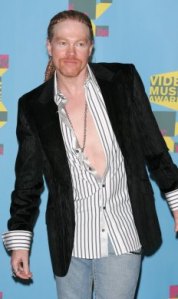 It's one of the most mocked records of all time, and it hasn't even been released yet. That would be Guns N' Roses' Chinese Democracy—the endlessly delayed follow-up to Use Your Illusion I and II. But 17 years, four presidential elections, and three major wars later, Axl's pet project finally has a release date… sort of. Billboard.com (via Pitchfork) is reporting that Chinese D will be released exclusively through Best Buy "by year's end." An official release date hasn't been confirmed.
 
Thankfully, the folks over at Idolator have a few more details (er, rumors) for us. Apparently, some dude over at newGNR.com has a nephew who works at Best Buy. The guy went to an employee convention in Dallas recently where he met "an English man in his 50's – dark hair, slicked back, dark skinned guy" who played Mr. Best Buy three new tracks from the forthcoming album, told him an exclusive marketing deal had just been signed with Best Buy 48 hours ago, and that the record was to be released "around Thanksgiving." We know, we know – sounds like BS. But in conjunction with Billboard's report, maybe not. Either way, we're sure Axl will clear everything up come November.
Of course, should the world as we know it come crumbling down and Chinese Democracy does, in fact, see the light of day in November, Dr. Pepper would be forced to make good on their promise and hand out a can of soda to every boy and girl in the nation. That's a lot of pop.
And speaking of fizzy beverages, the Flaming Lips are getting set to release another long-delayed, eagerly-anticipated project—their "fantastical and disturbing humanistic freakout," Christmas on Mars. The sci-fi film, whose trailer can be viewed here, involves a predictable cast of characters: oxygen generators, gravity control pods, alien super-beings, and, of course, Christmas babies. The madness was conceived around the turn of the century, wrapped in 2005, and has been making the festival rounds throughout 2008. It finally comes out on DVD on November 11 along with a CD of the film's soundtrack featuring lovable song-titles such as, "In Excelsior Vaginalistic," "Space Bible With Volume Lumps," and our personal favorite, "The Gleaming Armament of Marching Genitalia." Radical. Manhattan's KGB Complex is screening the movie through the end of the month. Strap on your jet-packs, kids.