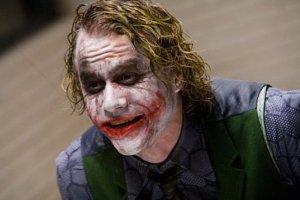 Ok, so we loved The Dark Knight like everyone else. We saw it at the IMAX at an ungodly hour and all that. And we agree with all the early Oscar blather for Heath Ledger as the Joker, etc. But, just in case anyone missed it, or if certain people might forget it, Warner Bros. will be re-releasing Christopher Nolan's second Batman feature in January, at prime Oscar voting season, Reuters reports (via the NYT).
It's unclear if the release will be nationwide, or just in theaters sure to draw Oscar voters, who may need a reminder of Ledger's tragic, creepy weirdo. The run could also help boost the movie's gross over the $1 billion mark. Currently, it's raked in about $952 million, domestic and worldwide. More below:
"It's just a matter of bringing it back as a reminder for people," a studio insider explained.
Warner Bros. domestic distribution president Dan Fellman acknowledged ongoing talks with Imax execs over the prospect of restoring the Christian Bale starrer to some giant-screen venues in January. It's uncertain if "Dark Knight" also will reappear in conventional venues at that point.