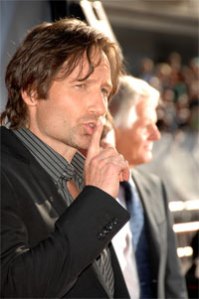 Add another trend piece to the ever-growing 'Internet Porn Addiction Ruins Relationships' canon. This month, Details' Em & Lo offer Jerking Off Is the New Infidelity (subhed: "Is your secret habit causing your marriage to slip through your fingers?"), in which we learn that, "While some guys store everyday images and encounters to fuel their imaginations, many go straight for the porn."
Sadly, the article was released too prematurely (tee-hee) to include this month's poster boy for self-love, David Duchovny.
But you probably already know about the perils of using internet porn if you read David Amsden's October 13, 2003 story in New York Magazine. Or Naomi Wolf's essay accompanying that piece. Or Amy Sohn's column from the same magazine from May 21, 2005. Or Pamela Paul's 2005 book, Pornified: How Pornography Is Damaging Our Lives, Our Relationships, and Our Families. Or Ms. Sohn's September 11, 2005 review of Ms. Paul's book, in which she dismissed its thesis despite having written about it a few months before.
Not a reader? Maybe you saw Rita Cosby's MSNBC report from March 3, 2006. Or CBS News' 'Eye on Technology' segment from May 1, 2007. Or Good Morning America's Pornography Threatens a Marriage from June 5, 2007. Or Fox News' 8 Signs Your Partner is Addicted to Porn from June 9, 2008.
Of course, that's not to mention the classics from The Holy Bible to Jean-Jacques Rousseau, Medical Arts Productions to Philip Roth, Jerry Seinfeld to There's Something About Mary to American Pie, and David Denby, and countless others who have known for centuries that men sometimes masturbate.