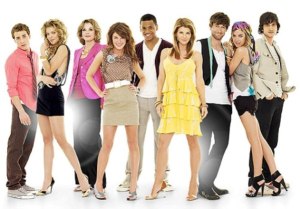 Rumors of The CW's demise have been slightly exaggerated. While the network is still on shaky ground, they were happy to announce last night that the incredibly hyped and hypnotically mediocre 90210 has been picked up for a full-season order. Despite losing nearly thirty-percent of its record series premiere audience, 90210 has held strong over the last two weeks, especially in the desirable 18-34 demographic.
Also helping 90210's cause: the fact that the show has immediately ingratiated itself into the cultural zeitgeist, with nearly the same gusto that sister program Gossip Girl did last year. We're not even out of September and there have been countless stories and clips on the web and newsstands about the show, ranging from Luke Perry's non-return to the starlets weight issues.
Even better news than the pick-up however comes from Michael Ausiello over at Entertainment Weekly. He reports that Rebecca Kirshner is joining the program to lord over the writers' room as an executive producer. Ms. Kirshner previously worked with show-runners Jeff Judah and Gabe Sachs on Freaks and Geeks, but she's best known for her work on Gilmore Girls. To that we say: Thank God! Someone needs to know how to write dialogue on 90210, since thus far, the results have been worse than a low-grade episode of Degrassi.
Sadly though, no reports have surfaced about any acting coaches. Poor Tristan Wilds. He might have been great on The Wire, but his line readings on 90210 would make Ed Wood cringe.