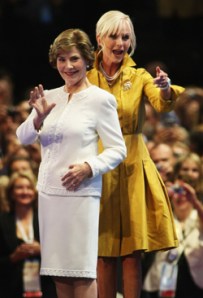 ST. PAUL—With much fanfare, this evening's session of the Republican National Convention was turned into a fundraiser for hurricane relief. Laura Bush and Cindy McCain appeared onstage beneath a video screen that projected a web address, www.causegreater.com, which was set up by the McCain campaign. Visitors to the web site, as well as delegates in the hall and viewers on television, were redirected a charity called The Aidmatrix Foundation, along with several statewide organizations, some of which were likewise affiliated with Aidmatrix.
What is the Aidmatrix Foundation? On Fox News, correspondent Bret Baier referred to it as "eBay for charitable contributions." The truth appears to be somewhat less tidy.
The Aidmatrix Foundation, founded in 2000, is based in Dallas and is currently run by Scott McCallum, the former Republican governor of Wisconsin. The organization has contracts with numerous private charities and state governments, including Louisiana's, playing a middleman role by "matching corporate surplus with charities" according to the nonpartisan Network for Good. In November 2006, after the organizational disaster of Hurricane Katrina, the Federal Emergency Management Agency awarded the foundation a $3.5 million dollar grant to develop of a software program to streamline the process of collecting and distributing donations of money and goods after natural disasters. Democrats in Congress, including Mississippi Representative Bennie Thompson, chairman of the House Homeland Security Committee, have recently questioned the effectiveness of the software. Aidmatrix declined to testify at a congressional hearing on July 31.
On its web site, Aidmatrix says it distributes "more than $1.5 billion of aid annually to more than 35,000 voluntary organizations." Tax forms, however, suggest that as of 2006—the year it received the FEMA grant, and the most recent for which such records are available—the organization had a $2 million budget, and distributed $667,000 in the form of grants. The largest single grant, to the World Food Program, amounted to $100,000. McCallum's salary was $279,000, while the organization's chief operating officer made $192,000.
McCallum served as Wisconsin's lieutenant governor during the Tommy Thompson administration, and ascended to the top job when Thompson was appointed secretary of Health and Human Services by President Bush in 2001. He failed in a bid to win a full term in 2002, and went on to become CEO of Aidmatrix, reportedly saying: "Why would I want to be in politics when I can save the world?"
The Aidmatrix Foundation's tax returns for 2004 through 2006 can be found here, here and here.