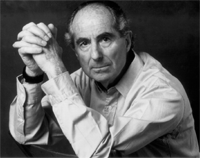 A short item on Portfolio.com by Lauren Lipton argues that super-producer Scott Rudin was unwise to acquire the rights to Philip Roth's brand new novel Indignation "given Roth's Hollywood track record."
Supporting evidence: "Of his many tomes, only a few have made it to the big screen to date."
Few here means five. Those five are, in order of release:
The 1969 adaptation of his "breakout novel"—actually just a long short story—Goodbye, Columbus, which we learn here was "well-reviewed."
1972's Portnoy's Complaint, which was "panned by critics."
2003's The Human Stain, which cost $30 million to make but earned only $25 million at the box office.
2008's Elegy, based on The Dying Animal, which earned $1.7 million in its first 25 days of release.
The forthcoming American Pastoral, currently in production.
Which is to say, Portfolio thinks Indignation will be a failure based on the fact that one Roth adaptation, released more than 30 years ago, was poorly reviewed and another lost money.
The explanation for this trend? First, that Roth's novels are full of "unsympathetic" characters—sound familiar?—and are written in an "off-putting" "postmodern" style, and thus are really hard to make good movies out of.
Q.E.D., except that even if that observation were anything like true, it would be unequivocally irrelevant to Indignation, which is one of Roth's most traditional, straightforward novels ever, both in terms of narrative structure and the substance of the plot. Really, it's the story of a Jewish boy from Newark who goes to college and gets sad because of girl stuff.
OK, so maybe that is a little too out there for Hollywood. Maybe if Apatow got on board?