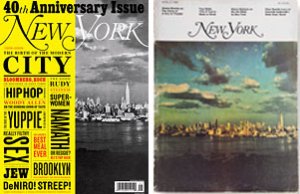 Earlier this month at a panel discussion at FIT, New York Magazine Editor-in-Chief Adam Moss fretted about the magazine's upcoming 40th Anniversary Issue cover. Referring to Esquire's 75th Anniversary publicity stunt-cum-new-new thing digital cover, Mr. Moss said:
It made us a little crazy… Because we have a fortieth anniversary issue coming out a week after Esquire's. We don't have an electronic cover. It just sits there.
So, how did that cover turn out?
This week's issue sports an austere skyline photograph by Jay Maisel that the magazine's table of contents explains is a "Reproduction of the original photograph for the first issue of New York Magazine." The cover flap folds out, allowing for an extra few inches of skyline inside.
In a letter from the editor, Mr. Moss explains:
Especially observant readers of this magazine (there must be a few) might note that they've seen the cover of this magazine before, and indeed they have, on the debut issue of New York, dated April 8, 1968. The only difference is that here the Manhattan skyline is rendered in metallic silver, rather than in the original four colors.
Sure, it's not electric, but it works.