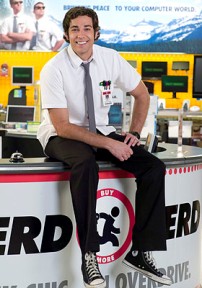 Can't wait until Monday night to watch Chuck? Well you don't have to! For the next three days, Hulu will have the second season premiere of Josh Schwartz's spy-comedy available to watch online with only limited commercial interruptions (though you mind find yourself buying Olay products by the time you're through.)
Chuck grew on us throughout its truncated opening season, seemingly getting better with each passing episode. We watched the season premiere last night and are happy to report the show remains on the right track. The episode, titled "Chuck vs. The First Date," contains the usual array of cheesiness and sweetness all wrapped in a funny forty-two minute package.
If you didn't get on the Chuck bandwagon last season and would like to start watching this season, you totally should! We guarantee you'll like it. And if you're worried about not being able to catch up, fear not: the beginning of the episode basically wraps up everything that happened last year in the blink of an eye. Newbies are certainly welcome!
Chuck airs Monday night at 8 p.m. on NBC.