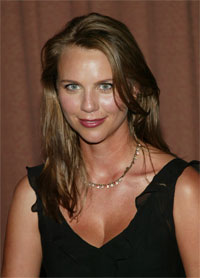 In the forthcoming October/November issue of Radar magazine, Lauren Sandler profiles Lara Logan, CBS News' alluring, aggressive war correspondent.
Over the course of several thousand words, Ms. Sandler chronicles Ms. Logan's blazing ascent from casual South African swimsuit model to swashbuckling war correspondent to tabloid sensation for her involvement in a series of war zone affairs, including with CNN's war correspondent Michael Ware.
"Ware and Logan became legendary for their blowout arguments," reports Ms. Sandler. "Some members of Iraq's press pack referred to them as 'the Sid and Nancy of Baghdad.'"
In short: It's a good read. (Though, as of this writing, not yet online.)
Although Ms. Logan declined to be interviewed for the piece, Ms. Sandler does speak with Dan Rather, one of Ms. Logan's earliest and most vocal advocates within CBS News.
Along the way, Mr. Rather admits that some of his former colleagues were less than thrilled when CBS News executives promoted Ms. Logan to the coveted job of Chief Foreign Affairs Correspondent.
From the story:
While few question Logan's bravery, it's easy to find colleagues who are appalled by her august new position at CBS. 'It was a risk for them and a risk for her,' says Rather. 'I'm not unaware that there are people, including people I have mentored and helped through the years, who are resentful of this.'