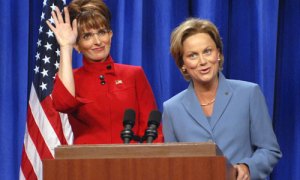 Here's a question that we found ourselves asking during the laborious season premiere of Saturday Night Live: after an entire summer off, this is the best they can come up with?
With the exception of the hilarious cold open, a press conference with Hillary Clinton (Amy Poehler, with clenched jaw perfection) and Sarah Palin (Tina Fey, predictably hilarious), the season premiere felt like a dress rehearsal. There wasn't one skit that followed even worth cracking a smile over. As one of our friends, who texted us a little after midnight, so eloquently put it: "Wow, this is awful."
In SNL's defense, we have to wonder how much Barack Obama's cancelation ripped the fabric of show apart from what was originally planned. Mr. Obama was supposed to appear in at least one sketch, and maybe more, but he was forced to skip the show in the wake of Hurricane Ike. Most likely, his skits were replaced with lesser ones. But still, you think the writers could come up with something a little funnier than home schooled Amish students and The Charles Barkley Show. Was the premiere a harbinger of bad things to come? What's Saturday Night Live to do?
Nothing! The season premiere was a smash hit. Following weeks worth of glowing press coverage, Saturday Night Live drew its highest overall ratings since Al Gore hosted in 2002, and its highest season premiere numbers since 2001. Compared to last year's premiere, the ratings were up sixty-four percent!
As it turns out, maybe NBC should put Michael Phelps into every ratings-deprived show on their schedule. We're sure his presence couldn't hurt 30 Rock.