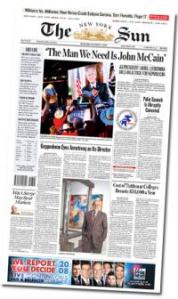 As you already know, today marks the last day of publication for The New York Sun. But for those of you who will miss the daily paper—or who missed it entirely over the course of its six year lifespan—there's a lot of 12 editions from 2002 for sale on ebay (EBAY).
According to the seller, 'almarg' of Bayside, Queens (who has 100% Positive Feedback) the lot, which went up today, contains:
12 ISSUES TUESDAY, APRIL 16, 2002 – FIRST DAY BACK ON THE NEWSSTAND AFTER 50 YEARS. CRISP, FLAT MINT ISSUE. 18 PAGES. PAGE 2 HAS A FULL PAGE PICTURE OF THE EMPIRE STATE BUILDING ('IT'S GOOD TO SEE THE SUN AGAIN') OUR WARMEST CONGRATULATIONS TO THE SUN ON A BRILLIANT NEW BEGINNING – EMPIRE STATE BUILDING.
(All caps, almarg's.)
Bidding starts at U.S. $35.00. There are currently zero bids.