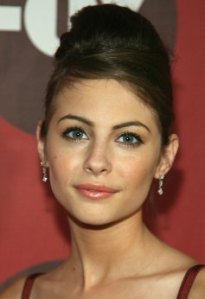 It was really only a matter of time.
Entertainment Weekly, is reporting that O.C. alumnus Willa Holland will appear on three episodes of Gossip Girl. EW, quoting a source inside the show, says that the former Kaitlin Cooper is in negotiations to appear as Agnes, a model for Eleanor Waldorf who becomes friends with Jenny Humphrey and predictably tries to sully her.
If this all sounds familiar, it's because the same plotline basically happened last year when Georgina Sparks showed up and attempted to make Serena back into a bed-hopping, coke-snorting menace. Originally, Josh Schwartz (the mastermind behind both Gossip Girl and The O.C., but you clearly already knew that) wanted his former muse Mischa Barton to play the role of Georgina. But apparently Ms. Barton figured that doing a bunch of crappy, straight-to-DVD indies would be better for her career than appearing on a show with deafening watercooler buzz (and, after Monday's premiere, actually some viewers), so she declined. Thankfully, Ms. Holland doesn't look like she'll make the same mistake.
Despite the fact that the appearance of Ms. Holland will certainly cause most of the male viewers of Gossip Girl to feel like dirty old geezers (she just turned 18), we think this is perfect casting. Ms. Holland seems like just the type of girl who would corrupt the easily corruptible Jenny. If she's half as good as Michelle Trachtenberg was last season as Georgina we'll be in for a treat, no matter how redundant and recycled the story arc seems.
Between Rachel Bilson's appearances on the first season of Chuck, the fact that Mr. Schwartz wanted Ms. Barton to appear on Gossip Girl and now, Ms. Holland's upcoming stint on the same show, how long before Adam Brody pops up on one of Schwartz's two Monday night programs? We think he'd be perfect as Dan Humphrey's cousin or Chuck Bartowski's long lost brother. Plus, let's be honest, that dude needs work after the Justice League movie fell through.