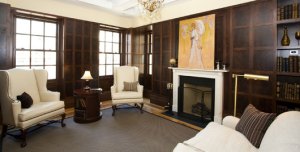 Since dawn on Monday, top Manhattan brokers and the universe of real-estate-obsessive types who surround them have been agonizing over the fate of New York's iron-gated, oak-floored, marble-foyered real estate. Will the apartment-friendly bonus season even exist? Will foreigners suddenly get antsy about investing in mammoth pied-à-terres? Even if prices go down, will whiz-kid financiers still be gobbling up realty later this year and next year and the year after that?
Maybe they'll all take solace in the story of Ray Iwanowski, a hedge fund manager who just bought a 4,184-square-foot apartment at 823 Park Avenue, which may prove that select financiers whose groups lose a few billion dollars during rough times are still willing to buy up full-floor, nine-room, five-bedroom, two-fireplace apartments. This month, a limited liability corporation named DJVI, which according to state finance records is connected to Mr. Iwanowski, paid $13,567,500 for the spread.
Back in April 2006, The Wall Street Journal described Global Alpha, which Mr. Iwanowski co-manages, as "a big, secretive hedge fund at Goldman Sachs … the Cadillac of a fleet of alternative investments." But things began to go sour after that article; last year the once $10 billion Global Alpha fund reportedly lost 38 percent of its value.
Nevertheless, Mr. Iwanowski now has an apartment with 10-foot coffered ceilings; "quarter sawn white oak floors" (herringbone oak with a "border accent of mahogany" in the living room); a seven-zone central air system; and a master bedroom with windows on three sides, according to the listing with John Burger and Kathy Sloane.
So he'll be all right despite the recent troubles, and so will 823 Park Avenue, a prewar building recently converted to condos. "I'm celebrating the fact that we've sold out the building, and that we were able to do that ahead of the very worse news we've had—these devastating announcements of September," Ms. Sloane said on Monday.
But what about financiers who won't be making several million this year? And what about the buildings whose apartments are going on the market this autumn? "The building generally sold to people in the financial industry," said Ms. Sloane, who has a slight Southern twang, "all of whom are doing well in spite of the bad news that has been so sad for so many others."
mabelson@observer.com