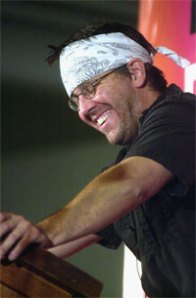 Blogger Ed Champion posts a tall pile of tributes to the late David Foster Wallace today from literary figures of all stripes. At the top of the pile, the critic James Wood, who is not known as DFW's biggest fan, who had this to say:
I was terribly saddened to hear this news. Whatever one felt about his work, it was hard to imagine any serious reader of fiction not being intensely interested in what he was going to do next. I had been looking forward to witnessing his literary journey, and to adjusting my own opinions and prejudices — or rather, being forced by the quality of the work to do so. Of great interest to me was his own ambivalent relation with some elements of postmodernism (irony, too-easy elf-consciousness, and so on), and the burgeoning presence of moral critique in his work. One had the feeling that his new work was being written under considerable pressure — and I don't just mean psychological pressure, but the pressure of staying loyal to his fractured, non-linear epistemology while at the same time incorporating some of that admiration he had for the concerns of the nineteenth-century novel. To put it flippantly, he was aesthetically radical and metaphysically conservative, and the negotiation of that asymmetry would have been a marvelous thing to follow, as a reader.
An untruthful reviewer of my book, How Fiction Works, claimed that David Foster Wallace was its "aesthetic villain." That is not true. I discussed him as an extreme example of a tension I think is endemic to post-Flaubertian fiction, which is the question, as Martin Amis once put it, of "who's in charge": is it the stylish author, who sees the world in his fabulous language, or his probably less stylish characters, who are borrowing the author's words? Wallace's fiction, I wrote, "prosecutes an intense argument about the decomposition of language in America, and he is not afraid to to decompose — and discompose — his own style in the interests of making us live through this linguistic America with him." One of the most impressive aspects of Wallace was that stylistic fearlessness.
On Friday, I was pondering writing a note to Wallace to say as much (and to correct the impression he might have got from that review), and then on Saturday came the terrible news — "like a man slapped."
The "untruthful reviewer" Wood is referring to, of course, is Walter Kirn, who unfavorably reviewed Wood's recent book How Fiction Works—or was it Wood himself that Kirn was reviewing?—in The New York Times Book Review on August 17th.