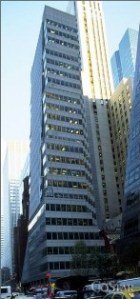 A Japanese investment firm called Mitsui Fudosan is under contract to buy 527 Madison Avenue for $160 million, according to a source familiar with the deal, shattering rumors that a Chicago-based firm was the main contendor for the building.
Mitsui Fudosan is buying the 26-story 527 Madison for $225 million. Meanwhile, the Chicago-based Transwestern is under contract to take Tower 56 at 126 East 56th Street at for $160 million.
Both buildings were part of the so-called Equity Office Portfolio, which Macklowe Properties bought in early 2007 for a stunning $7 billion, putting down just $50 million and leveraging the GM Building. When Macklowe defaulted on $5.8 billion in loans, lender Deutsche Bank took back the buildings and put them on the block.
These two transactions mean that Eastdil Secured, which is advising on the transactions, now has only two towers left to sell: Worldwide Plaza at 825 Eighth Avenue, and 1540 Broadway.