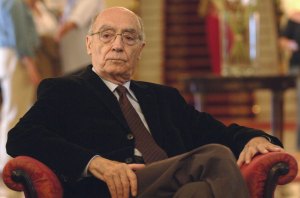 Jose Saramago, the Portuguese novelist of Baltasar and Blimunda and Blindness fame, is joining the internet. The 85-year-old Nobel Prize for literature winner started a blog on Sept. 17, inaugurating it with a "love letter" to Lisbon. It's here and written in Portuguese. We tried translating some of it with Google and Yahoo! translation tools but it's still pretty unreadable, although we think there is some kind of entry about President Bush. The Literary Saloon reports that an English version might be available soon.
Perhaps Mr. Saramago decided to join the modern masses because he is a secret marketing genius: his most well-known novel in America, Blindness, has been turned into a movie starring Mark Ruffalo and Julianne Moore and will be released in theaters Oct. 3.
We can't wait to Facebook-stalk him whenever he catches on to social networking.