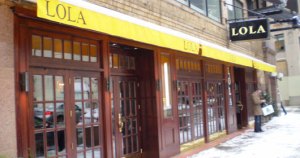 After three years of court fights with booze- and noise-wary neighbors over its liquor license and live music program, embattled Lola restaurant at 5-15 Watts Street has filed for Chapter 11 bankruptcy protection.
In addition to mounting unpaid legal bills — nearly $100,000 and counting — proprietors Gayle Patrick-Odeen and Tom Patrick-Odeen also owe landlord Vornado Realty more than $100,000 in back rent, "as a result of [their] inability to generate significant income from [the restaurant's] trademark live performances," according to court papers.
On Aug. 20, Vornado threatened to terminate the restaurant's 15-year lease if the money was not paid in full. The restaurant has filed for bankruptcy in order to "preserve its valuable leasehold interest," the court papers show.
The restaurant is now "holding 3 nightly performance sets in hopes of successfully rebounding from their financial setbacks."