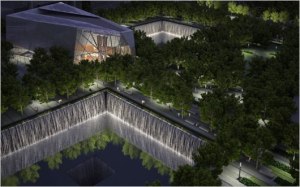 The Times' David Dunlap has details on the latest version of the planned September 11 memorial at the World Trade Center site:
The architect Craig Dykers has been working since 2004 on the design of a museum building for the World Trade Center site. In the end, he realized there could be no more powerful a centerpiece than something Minoru Yamasaki designed 45 years ago.
To an otherwise Spartan design for the twin towers, Mr. Yamasaki, the original architect, added one instantly recognizable flourish: trident shaped columns at the base of the buildings, which created an arcade of almost Gothic proportion. Enough of these enormous steel tridents survived the terrorist attack of Sept. 11, 2001, that their familiar silhouettes came to symbolize endurance in the face of catastrophe.