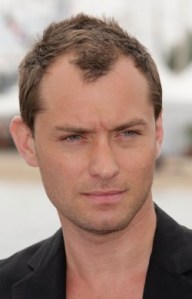 Perhaps Guy Ritchie should have heeded the words of Chris Rock at the 2005 Academy Awards: "If you want Tom Cruise and all you can get is Jude Law. Wait! You want Russell Crowe and all you can get is Colin Farrell? Wait!"
After being spurned by Mr. Crowe for the part of Dr. Watson opposite Robert Downey Jr.'s titular detective in Sherlock Holmes, Warner Brothers is close to finalizing a deal with Mr. Law to co-star in the film.
While Mr. Law isn't a box office cancer as lethal as Mr. Farrell (though we do love him in Miami Vice!), we can't say his casting inspires thoughts of nine-figure ticket returns. But maybe the sidekick role of Dr. Watson is just what Mr. Law needs to get his mojo back. With his sharp jaw line and lilting accent, Mr. Law has normally been cast as a leading man, and it hasn't really worked. Most of the time, he just looks bored-we're thinking of Cold Mountain, Sky Captain and the World of Tomorrow and Alfie. But when given a good supporting role, the opposite happens. He's invigorated and invested. When you watch him in The Talented Mr. Ripley and even Closer, he's great!
And come to think of it, at this point in his career, Mr. Law might be a more stable box office draw than Tom Cruise. Maybe this won't turn out so badly after all.