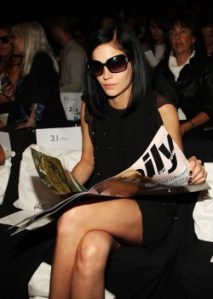 Fashion Week—which ended Friday, Sept. 12, after eight full days and nights of parties, shows, and flashbulbs—has historically been an excellent opportunity for celebrities (and we use this term lightly) to get themselves photographed a whole lot over the course of a rather short period of time. Of course, designers rely on celebrities to show up at their shows to bring buzz (and photographers); just witness the mayhem that ensued when Jennifer Lopez showed up at Marc Jacobs's show. And indeed, some celebrities really are close friends with the designers whose shows they come to. Which is fine!
But canny sub-A-list celebs also know that Fashion Week can help raise their profile, if briefly; we saw so many photos of actresses like Michelle Trachtenberg, Joy Bryant, Jessica Szohr, Perrey Reeves, and Zoe Saldana over the last couple of weeks that it seems a bit of a stretch to think that they were truly, genuinely interested in all the fashion coming down the runways.
When we went back and actually looked at all the photos, one name stuck out: that of MisShapes munchkin Leigh Lezark. She was photographed, as the slide show we've put together demonstrates, at a minimum of 21 events over Fashion Week, at shows ranging from BCBG Max Azria to cult label Costello Tagliapietra, in addition to several private dinners and parties (often wearing huge black sunglasses a la Anna Wintour, as New York magazine's fashion blog noted). She was supposed to be reporting from Style.com's "Virtual Front Row" for the week, but other than a brief introductory audio post, she doesn't seem to have checked back in. (Before Fashion Week, she'd been keeping a low profile; her last public event was the Whitney Contemporaries party in June.)
Click on the icon above right to see Ms. Lezark in all her Fashion Week, uh, glory.