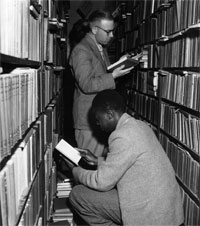 As a companion to the magazine's 75th Anniversary issue, Esquire's Web site features a list of "75 Books Every Man Should Read." The display copy calls it, "An unranked, incomplete, utterly biased list of the greatest works of literature ever published."
The list includes a lot of the authors you might expect like Fitzgerald, Hemingway. Tolstoy, Mailer, and Melville, whose Moby-Dick is called "The first American masterpiece. And perhaps the greatest." More contemporary entries include Salman Rushdie's Midnight's Children and Don DeLillo's Underworld.
It's the great list for anyone hoping to catch up on a century or so of quality reading. The only thing missing, as far as we can tell, are women writers. (Update: Looks like Jezebel got there first!)
A single female author made the cut: Flannery O'Connor for A Good Man Is Hard to Find and Other Stories.