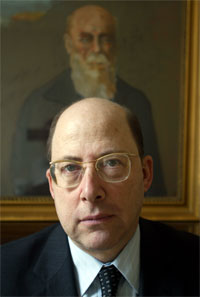 "I told the staff," said Seth Lipsky, editor of The New York Sun, "that I tend to be an optimist. And I held out hope for a favorable outcome as late as mid-afternoon today."
By 4 P.M., Mr. Lipsky was informing his staff that the Sun would fold, and tomorrow's edition would be their last.
"You know it has been the honor of my life to be in the harness with this group of journalists and I did what I wanted to do," he said.
Media Mob asked about how difficult it is to hang it up, particularly in the middle of an enormously important news day in New York.
"I agree, it's a tremendous story, but I'm very focused on putting out tomorrow's paper," he said.
He said that the Sun would publish his comments to the staff on its Web site.