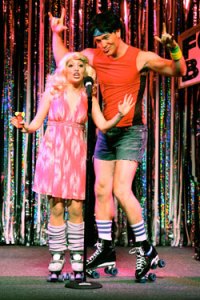 I once asked in this column, with typical modesty, who you would vote for as the best drama critic in town. Taking a wild shot in the dark, who, my children, is the wisest, wittiest of them all?
The answer is … Gerard Alessandrini.
And you thought it was me! (You always do!) But I know my place. Put simply, Mr. Alessandrini is the best and funniest critic of Broadway musicals in history. He's the creator, writer and co-director of my favorite show on earth, Forbidden Broadway, and I love the guy.
I always think understatement works best, don't you? But no show has consistently given me more pleasure over the years than Mr. Alessandrini's little revue that spoofs and skewers the higher lunacies of Broadway. Even Broadway itself has ripped it off (most shamelessly in Spamalot).
Forbidden Broadway has become a New York institution with just four exceptional performers and a pianist on a postage-stamp-size stage (with a tinsel curtain). It was Mr. Alessandrini's inspired device to add his own surpassing, sometimes withering lyrics to the existing show tunes, with love and affection and the smile of a charming assassin.
So it comes as shocking news for a lot of us that Mr. Alessandrini has decided to hang up his scalpel after 27 glorious years, once his latest edition, Forbidden Broadway Goes to Rehab, ends its run at the 47th Street Theatre on Jan. 15. Say it ain't so! Or as the upset Carmen Ghia puts it in The Producers: "If you want to send an arrow through my heart—bull's-eye!" I've been seeing the show as a necessary ritual and treat for some 20 years, looking forward to each new version as if my partial sanity depended on it.
But if Forbidden Broadway really is to end its record-breaking run despite its continued vitality, Mr. Alessandrini's reasons are understandable. They tell us much about the state of Broadway he lampoons.
The target hasn't changed; it's the shows that got smaller. Mr. Alessandrini's worthy targets have always been the sacred cows of major musicals and recognizable stars—as opposed to, say, a mermaid or the suicidally named [title of show]. The Disneyfied Broadway for kiddywinks isn't for him. Hence this season's hilarious sendup of dear old sanctimonious Mary Poppins with her ever-so-precise British vowel sounds:
It's stupid-careless-fictional-
     nonsensical
verboseness
Even though the sound of it may
     give it
grandioseness
So damn cute you choke on all the
     sappy sweet
glucoseness
Stupid-careless-fictional-non
     sensical
verboseness!
MR. ALESSANDRINI has also confessed that lampooning increasingly mediocre musicals has become increasingly difficult. Still, he never lets us down! Take the unfortunate case of A Tale of Two Cities, which has just opened on Broadway. Frankly, this poor son of Les Misérables is staggeringly bad. Its song titles alone echo the now dated Sturm und Drang of Les Miz and Lloyd Webber, signaling what's wrong: "The Shadows of the Night," "You'll Never Be Alone," "If Dreams Came True" (as opposed to Les Miz's "I Dreamed a Dream").
Musical adaptations of Dickens' impossibly crowded novels would be challenging enough at the best of times. (Lionel Bart most notably succeeded with his terrific Oliver.) Arriving on Broadway from Florida, A Tale of Two Cities has a book, music and lyrics by a first-time composer, Jill Santoriello. She tells us gamely in Playbill that she began writing it during the first Reagan administration. ("Never give up on your dreams!")
Be that as it may, I'm afraid the tedium of the production left me struggling to think up a witty adaptation of Dickens' immortal line, "It is a far, far better thing that I do …" Words failed me, but Mr. Alessandrini rises to the occasion in his lethal sendup of the show. At the close of a wicked impersonation of its star, James Barbour, he gives him the effortless line, "It is a far, far lesser show that I do than I have ever done …"
FORBIDDEN BROADWAY never hits below the belt. Well, almost never. It depends how low the belt is. "Old Young Frankenstein," nails the overhyped Mel Brooks musical to a spirited version of its big number, Irving Berlin's "Puttin' on the Ritz"—