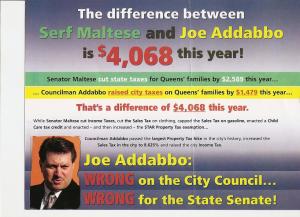 Here's a mailing that voters in Serf Maltese's State Senate district got this week, hitting his challenger, Council member Joe Addabbo, on the issue of taxes.
Addabbo campaign spokesman Alexis Grenell disputes the claim, and says that in fact Maltese voted against cutting the Personal Income Tax in 1995, which, she says, makes Maltese the tax-raiser in the race. Grenell also notes that the mailer doesn't cite any sources for its calculations.
On a broader level, the whole issue of who voted to raise and cut taxes is kind of tricky. The City Council, where Addabbo serves, needs permission from Albany, where Maltese is, in order to raise most taxes in the city. So, when Maltese claims he voted to cut sales tax, it's true. But the bill is, as Addabbo's people point out, "subject to home rule," meaning it's done at the request of the City Council.
So who ought to get credit for that? And who does