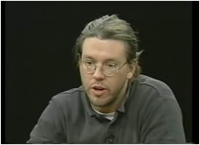 On May 17, 1996, Charlie Rose assembled a panel of writers on his PBS talk show to discuss "The Future of American Fiction." Sitting around Mr. Rose's circular table on his signature all-black set were Mark Leyner, Jonathan Franzen, and David Foster Wallace. At the time, Mr. Leyner, was the best known of the bunch, having appeared on the cover of The New York Times Magazine in advance of the release of his novel Et, Tu, Babe in 1992. Mr. Franzen was promoting Strong Motion, his second novel. Mr. Wallace was just coming to prominence for Infinite Jest, his 1,079-page novel.
In the 12 years since that broadcast, Mr. Leyner would step back from fiction, co-authoring a series of popular medical advice books and dabbling in television- and screenwriting. Mr. Franzen would receive, however reluctantly, the literary equivalent of the Key to the City from Oprah Winfrey and a National Book Award for The Corrections. Mr. Wallace would write half a dozen more books of short stories, essays, journalism and criticism before committing suicide last week at 46.
"It's been awful. I really haven't thought about much else," Mr. Leyner told The Observer of Mr. Wallace's passing.
After a brief pause, he continued. "It's a shocking thing. It's kind of a more terrible shock because in retrospect, given the things we know now, David's unhappiness, which was profound, was a long-lasting thing."
Mr. Leyner described Mr. Wallace as "a very courteous, diffident person," someone who "lived life with an enormous amount of concern. … He was the opposite of an arrogant, swaggering person."
The other member of Mr. Rose's panel, Jonathan Franzen, told The New York Times' Bruce Weber that Mr. Wallace "was a huge talent, our strongest rhetorical writer. … He was also as sweet a person as I've ever known and as tormented a person as I've ever known."
Mr. Wallace and Mr. Leyner only had a handful of encounters over the years, but they spoke to each other intensely through their work and in interviews. Mr. Wallace was at times critical of Mr. Leyner. In an essay called "E Unibus Pluram: Television and U.S. Fiction" (collected in A Supposedly Fun Thing I'll Never Do Again), he called the author's second book of stories, My Cousin, My Gastroenterologist, "the biggest thing for campus hipsters since The Fountainhead." (That was surely not a compliment.). In William Grimes' New York Times Magazine profile of Mr. Leyner, Mr. Wallace called him "a kind of antichrist." He also said, "He's so into making fun of everything that, reading him, I think of the culture as a cancer patient with a terminal diagnosis."
Mr. Leyner says that before their appearance on Charlie Rose, Mr. Wallace apologized for those remarks. "He was so considerate about it. He said it was taken a little out of context and started to explain. And I said, 'Oh, it's not necessary.' He was very concerned that I not be hurt by something."
"I never took any of that personally," Mr. Leyner says of the criticism."I thought it was great. I took pleasure in it. … I never ever felt a tinge of insult about it. David was not capable of that." (Mr. Leyner managed to jape Mr. Wallace with a 1997 satire of The Jenny Jones Show devoted to a "recovering postmodernist," which Mr. Wallace apparently appreciated enough to hang on his office door, according to Mr. Leyner.)
"When I was with David, we never had those kinds of conversations you can have with people about 'the business,' about agents, about editors. It was always about the work."
Of that work, Mr. Leyner says, "What we're losing is someone who saw a kind of profundity in almost everything as a human being and as a citizen and as an artist. … He's irreplaceable and at a moment in the culture when he's desperately needed, he's gone."