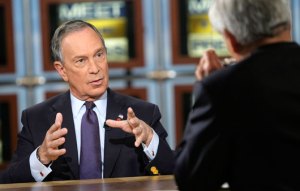 Mayor Michael Bloomberg shrugged his shoulders, turned up his palms and rolled his eyes in what is now his well-practiced impression of an exasperated person.
It was another question about whether he would consider helping the next administration by swooping into Washington to rescue the economy as secretary of the Treasury or as the appointed overseer of a proposed $700 billion fund to buy and resell troubled mortgages. This time, a reporter wanted to know if he felt qualified for the job.
"It's sort of pressing it to say that I was interested in running a mortgage business, which I don't have the expertise in, incidentally," Mr. Bloomberg said over a dozen tape recorders resting on his podium.
Standing alone on a stage in a gleaming new terminal at Kennedy Airport, the mayor turned to take the next question. "Yes, sir," he said.
But then he couldn't leave it there.
He had one little qualifier to add to that lack of expertise he had just mentioned: "I could get it, I assume."
That Mr. Bloomberg is now wording his answers with all the care of a cabinet nominee at a confirmation hearing says something about the perfect storm that has swept him up since Wall Street melted down.
Without actually doing much to stoke it—just by being there, really—Mr. Bloomberg has somehow become a catch-all messiah, coveted by both major-party nominees, cited by federal officials on either side of the aisle and wielded by pundits as a synonym for fiscal expertise and market wisdom.
"It's one of the oldest games in the political book," said Ralph Schlosstein, a former White House aide in the Carter administration and co-founder of the private-equity group BlackRock, explaining the ongoing political stampede in Mr. Bloomberg's direction. "You like to have your name associated with talented, popular leaders."
Ken Fisher, a public affairs consultant and former New York City councilman, said Mr. Bloomberg was "benefiting politically at the moment from being a financial celebrity," and that while he lacked the market experience of say, running a financial institution or working in mergers and acquisitions, he had a lot more economic credibility than most politicians and a lot more visibility than most financial experts. "He's recognizable," said Mr. Fisher. "He's a public figure."
In the days following the Lehman Brothers-A.I.G. meltdown, he became a very public one.
On the evening of Sept. 18, the Obama campaign sent out an e-mail to reporters informing them that the candidate had talked with Mr. Bloomberg earlier in the day, and the candidate told guests at a fund-raiser in Arizona that he had made the call.
Before the night was out, the mayor's office sent out an advisory that the mayor would talk to reporters about the conversation the next day.
On Sept. 19, at an event in Washington Heights with Shaquille O'Neal, Mr. Bloomberg expanded on the call. 
"I said to Senator Obama last night, there are a number of different levels he has got to address, and Senator McCain the same thing," he said.
"One," he said, they are all in a political campaign and they had to find a way, outside of sound bites, to "explain to the public as best they can, compared with the other guy, what they would do."
Second, he said, were their views on how "to deal with the crisis we have now." And so on.
On Sept. 21, Mr. Bloomberg made his second-ever appearance on Meet the Press, where he talked about root causes of the crisis and deflected Tom Brokaw's queries about whether he was interested in a job managing the bailout in Washington.
"I'd do anything that the country asked me to do," said Bloomberg, before asserting his intention to finish out his current term. (Although he ducked Mr. Brokaw's question about whether he intended to challenge term limits.)
During the Meet the Press interview, Mr. Brokaw also mentioned that Warren Buffett, the legendary investor, had named Mr. Bloomberg as a good choice to head a new economic agency.
That same day in The New York Times, columnist Tom Friedman wrote the following: "Think how much better off McCain would be today had he nominated Michael Bloomberg as his vice president rather than Sarah Palin. McCain could have said, "I'm not an expert on markets, but I've got one of the best on my team."
In an interview, Mr. Friedman explained that his inclusion of the Bloomberg alternative had less to do with the mayor's specific financial background and expertise than the entirety of what he could theoretically offer each of the candidates.
"I think that what Bloomberg combines is someone who understand the markets much more than the average politician—let's use that as the baseline—understands politics and how to get things done, and I think in his time as mayor also has an allegiance and a loyalty to the common man," said Mr. Friedman. "His loyalties aren't just with Wall Street now. He wouldn't be snookered."