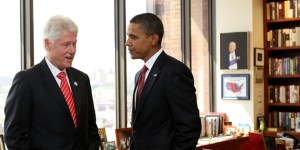 This week, I'll spend some time liveblogging from the Clinton Global Initiative—the remarkable annual event where, between celebrity sightings, hundreds of smart and knowledgeable people discuss big problems and practical ways to solve them.
At this year's C.G.I., there will be a major pre-debate appearance by John McCain and Barack Obama, virtually together. On Thursday morning, at a conference plenary titled "Integrated Solutions: Water, Food & Energy," Senator McCain will deliver the opening remarks in person—and Senator Obama will make the closing presentation (reportedly via satellite).
In between, the plenary panel discussion will feature NBC News special correspondent Tom Brokaw, oil and gas tycoon T. Boone Pickens, and World Bank president Robert Zoellick, talking about "ways to use water more efficiently, expand food security, and reduce our dependence on fossil fuels to create a more sustainable future."
The original announcement that McCain would speak on renewable energy at C.G.I. provoked an understandably skeptical response from observers who suspect that Clinton's support for Obama is insincere and who also note that McCain's record on renewable energy is nugatory, to put it politely. But now Obama will have the last word—just before they weigh in for the main event on Friday evening. You will be able to watch it all via webcast here.