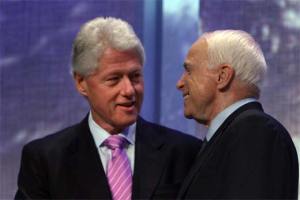 On his way to the podium at the Clinton Global Initiative conference this morning at the Sheraton New York in midtown Manhattan, John McCain met Bill Clinton in the middle of the stage. They shook hands and grasped each other's shoulders purposefully, but when the candidate settled at the lectern he realized he had lost something along the way.
During the brief clasp-fest, the former president had accidentally fleeced McCain's speech.
There was an awkward moment before Clinton suddenly stopped in his tracks. He waved the extra set of notes in the air.
"I took his speech," said Clinton, in an astonished, aw-shucks fashion that earned the applause of the ballroom packed with dignitaries and do-gooders.
He handed the speech back to McCain, who joked, "What kind of a host is that?"
Actually, for McCain, Clinton was a very, very gracious one.
With the exception of his eloquent and inarguably powerful speech at the Democratic National Convention in Denver last month, Clinton has come under some criticism for his apparent lack of enthusiasm in making the case for Barack Obama. Obama appeared, via satellite, after McCain spoke and received praise from the former president. But in his introduction of McCain this morning, the former president heaped praise on the Republican nominee that was genuine-seeming and enthusiastic, even in the context of an ostensibly apolitical conference.
"I am, personally, profoundly honored of the presence of Senator McCain here today," said Clinton before McCain came on stage.
The Obama campaign has sought to strip McCain of his maverick reputation by arguing that he has nearly always voted with the Republican party and President George Bush. Clinton, apparently, didn't get the memo.
In his introduction, Clinton discussed global warming, his pet issue these days, and talked about the irrational reluctance of Republicans to acknowledge the problem. Except for McCain, that is.
"He looked into it," said Clinton.
Clinton talked how his wife, Senator Hillary Clinton, and McCain traveled together on a global warming fact-finding mission to Alaska, "your state," Clinton said, addressing himself to Governor Sarah Palin, who sat, mute as usual, in one of the front rows of the audience. "There weren't any votes in this in Arizona," said Clinton. "He just wanted to know."
He went on, thanking the candidate, his wife and Palin for showing up at his conference.
"John McCain wants to know," he said. "And I am profoundly grateful to him for coming here today."
McCain seemed extremely happy to be there and he reciprocated the love in kind.
After the speech-mugging mishap, McCain addressed Clinton as "Mr. President" and said, "Bill Clinton is a man who has achieved enough in public service by any measure but his own."
McCain then took full advantage of the high-profile platform, and the assembled national and international media watching from the wing, to talk about the temporary suspension of his campaign to help solve the national economic crisis.
Then he started politicking by talking about the need to end politicking.
"History must not record," he said, that its leadership was not able to put aside politics in the hour of need. "The political process is not an end in its own."
He gave a brief rundown of the situation, the enormity of the proposed bailout, his belief that the "plan on the table" wasn't ready yet to be passed, and the potential disaster the crisis posed to the nation's economic future.
"As most of you know, I'm an old Navy pilot and I know when a situation calls for all hands on deck," he said, adding, "as of this morning, I suspended my political campaign."
Then he ran through a list of requirements, familiar on the campaign trail and popular with voters, to pass the bailout plan, including greater accountability, a path for taxpayers to recover their money, more transparency and measures to prevent the excessive pay of executives with taxpayer money.
He said he was confident a bill would be passed before Monday.
McCain closed by returning to the day's previously scheduled programming: the fight against malaria, tuberculosis, and the promotion of an African green revolution. Then he once again praised the "leadership of the man from Hope."
Clinton came back onstage, and as the candidate's traveling press corps left their seats and crept out of the dark hall, he said,"Senator McCain, please, I want to say one other thing."
"I want to thank Cindy McCain for the work she has done in Rwanda," he said.
After going on to talk about the exciting energy panel due onstage and the impressive financial commitments he would later announce, he assured the audience that "Senator Obama is going to get equal time in an equal way at the end of this."
After the energy panel moderated by Tom Brokaw, and the announcement of commitments, Clinton came back onstage to introduce Obama and to thank him, "because he went through quite a bit of trouble" to appear via satellite.
Clinton restrained himself from making remarks that might appear too laudatory, because, he said, "I said what I had to say," at the convention, and "I don't want to be political here." But he cited two examples to attest to Obama's goodness as a person and seriousness as a candidate.
Referring to a meeting the two men had at Clinton's Harlem office on Sept. 11, he said it was worth noting that Obama didn't want to address the crowds clamoring outside because "he thought it was wrong to campaign on 9/11." Clinton said he also found it remarkable that "80 percent of the conversation had nothing to do with politics," and that Obama showed his seriousness by wanting to talk about the best way to use soft power to help national security and the world.
"And that's a very good thing to do," said Clinton, who also said Obama cared more about finding solutions to the economic crisis and then selling it to the American people than seeking a politically popular solution.
Of those examples, Clinton said, "I believe that they both reflect well not only on Senator Obama as a person but as a potential president."
Obama appeared on two jumbo screens flanking the stage and gave a long speech in which, among other things, reiterated his commitment to debate on Friday in Mississippi.
"Congressional leaders have made progress in their negotiations, and appear close to a deal that would include these principles," said Obama. "President Bush addressed some of these issues last night, and I'm pleased that Senator McCain has decided to embrace them, too. Now is a time to come together – Democrats and Republicans – in a spirit of cooperation on behalf of the American people."
"Later today," he said, "I'll be traveling to Washington to offer my help in getting this deal done. Then, I'll travel to Oxford on Friday for the first of our presidential debates. Our election is in 40 days. Our economy is in crisis, and our nation is fighting two wars abroad. The American people deserve to hear directly from myself and Senator McCain about how we intend to lead our country. The times are too serious to put our campaign on hold, or to ignore the full range of issues that the next president will face."
He also framed his proposals in terms of C.G.I. "commitments."
"Since C.G.I. is about deeds, not just words," he said, "let me tell you about four specific commitments that I will make on four issues that C.G.I. has focused on – climate change, poverty, education, and health – if I have the opportunity to serve as president of the United States."
Obama received a standing ovation and high marks from Clinton.
"That was a great speech," he said, adding. "I loved it and I thought it was done very well."