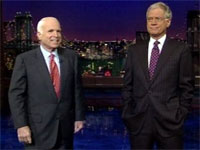 Also in the October/November issue of Radar, Ana Marie Cox interviews John McCain about his favorite TV shows. (Good two months for them!) Mr. McCain, who David Letterman excoriated last night for bailing on his show, said that he really likes the late night talk show host in the article which is currently not online.
As Mr. McCain told Ms. Cox:
One reason I like to go on those shows, particularly ones like Leno or Letterman, is that they help you reach a wide viewing audience that otherwise would not be paying attention to the political scene—people who would never be exposed to the Sunday-morning shows or other programs that politicians are traditionally on.
Later on, he says: "Both Leno and Letterman are funny guys, but they're also very well informed. I'm sure we'll just joke around in the first segment. In the second section, after the break, we can usually have some serious discussion. That's how it usually works. It's always pleasant to be on those shows, because Leno and Letterman are both very good guys."
The interview was conducted in late August. Mr. McCain probably has some new feelings about the guy.