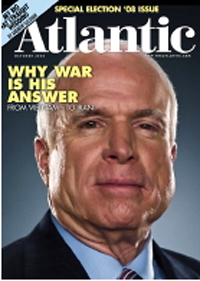 The Atlantic's Jeffrey Goldberg is reporting on his blog that photographer Jill Greenberg has been dropped by her photo agency, Vaughan Hannigan Artists. A call to the agency by Media Mob confirmed the news.
As you may have already read elsewhere, Ms. Greenberg created controversy by posting unflattering and grotesquely retouched outtakes from her John McCain cover shoot for The Atlantic on her site, The Manipulator. Among the retouched photos is one showing the Republican Presidential nominee with bloody shark teeth beneath the headline "I Am A Bloodthirsty Warmonger" and another showing a primate defecating on Mr. McCain's head. (As far as choice of target and sharpness of message goes, Ms. Greenberg's photos were far from Heartfield-level attacks on the candidate.)
Ms. Greenberg also boasted to Photo District News' PDN Pulse blog that she tricked Mr. McCain into posing above a strobe light that created a horror movie shadow effect and served to dramatically emphasize his age. (Ms. Greenberg's images can be found here.)
James Bennet, The Atlantic's editor, has issued a statement that reads in part, "We stand by the respectful image of John McCain that we used on our cover, and we expect to be judged by it. We were not aware of the manipulated and dishonest images Jill Greenberg had taken until this past Friday." Mr. Bennet also told Fox News' Election HQ blog that the magazine will not be paying her for the photo it used on the cover.
Ms. Greenberg's highly stylized photos have appeared in magazines like New York (this week, she shot The Office's Ed Helms), Portfolio, Time, Wired, and numerous other publications and ad campaigns.
Mr. Goldberg, whose profile of John McCain the cover was meant to illustrate, has been one of Ms. Greenberg's strongest critics. In a post on Sunday, he said he was "appalled" by her actions and that the photographer "is quite obviously an indecent person who should not be working in magazine journalism." He also lamented "the blithe way in which she has tried to hurt this magazine."
Yesterday, Mr. Goldberg's Atlantic colleague Andrew Sullivan called Ms. Greenberg "eccentric in an unpleasant way" but asserted that "it's a free country and she can post whatever she wants on her own blog."