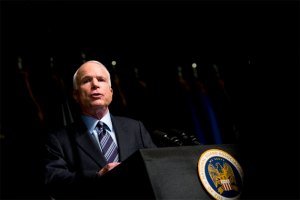 Senator John McCain announced today that he and his staff are working behind the scenes to try and postpone Friday's debate with Senator Barack Obama due to the ongoing crisis in the financial markets.
The highly anticipated first showdown between the candidates is scheduled to take place at the University of Mississippi on 9 p.m. Friday night and will focus on national security and foreign policy issues. PBS's Jim Lehrer is scheduled to moderate.
From the Associated Press's article:
In a statement, McCain says he will stop campaigning after addressing former President Bill Clinton's Global Initiative session on Thursday and return to Washington to focus on the nation's financial problems.
McCain also said he wants President Bush to convene a leadership meeting in Washington. Both he and Obama would attend the session.