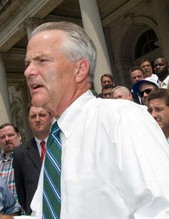 Retiring Republican Representative Vito Fossella got some mild praise from the Democrat who's running for his seat.
In a public statement just now, City Councilman Mike McMahon, said:
"When Americans across the country receive their 401k statements at the end of the month, the gravity of today's vote will be clear. Over the past week, Republicans and Democrats came together to create an imperfect but necessary answer to the financial crisis, and it failed. Now tens of thousands of jobs in the district are in danger on Wall Street, and Main Street will feel the pressure as student loans, mortgages, small business loans and credit freeze up. I applaud Rep. Fossella for his vote today, and wish that more had joined him. I urge Congress to continue negotiations, and bring a new solution to the table by the end of the week."
UPDATE: A spokesman for McMahon's Republican opponent, Robert Straniere, declined to comment.
UPDATE II: Straniere is out with a statement. "I applaud the House Republicans for their efforts on behalf of the American people to stand on principle and not cave in to the doomsayers," he said. "Whenever I see tax-and-spend, big government liberals like Nancy Pelosi, Barney Frank, and Harry Reid all rushing to agree with President Bush, it gives me pause."