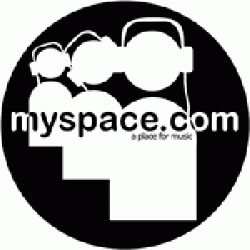 Do you remember your MySpace password? We don't, but we're going to start guessing. News Corp.'s MySpace Music page launched at midnight this morning. The new service is MySpace's answer to iTunes: 120 million users will be able to create and share free playlists from the five-million-artist-strong digital catalog.
MySpace co-founder Chris DeWolfe announced the new project last spring, with promises to offer concert tickets and band merchandise. But those services aren't available yet.
They can make mixes with up to 100 tracks and post them on their profiles and nab them from their friends' pages, too. Members will also be able to keep up with their MySpace friends' latest playlists with a news feed. If the kids actually want to transfer their songs to their iPod or Zune or whatever, they need to buy them from Amazon.com.
MySpace Music has also come under scrutiny for blocked out indie arists from the service. Their digital music catalog currently only contains music from major labels EMI Music, SONY BMG MUSIC ENTERTAINMENT, Universal Music Group, Warner Music Group, Sony/ ATV Music Publishing and indie label The Orchard. What, no Matador? The only good thing about MySpace was its ability to expose independent music to millions of users. They're compromising the last bit of creditability they have by blocking out the little guys.
Oh, and news flash: making online playlists is hardly reinventing the digital wheel. Imeem, Last.fm and Muxtape already have excellent playlist services and aren't cluttered with too many annoying ads.
Speaking of making money, MySpace has lured big-time sponsors including McDonald's, State Farm, Toyota and Sony Pictures into the new service. McDonald's will give away free music downloads. Sony Pictures will promote the opening of Nick & Norah's Infinite Playlist (lol!) by skinning all MySpace Music users' profile playlists for a week. State Farm will have rotating ads on the site and there will be "Toyota Tuesdays," with free music downloads every Tuesday for a year.
Will MySpace Music actually be successful? Seems like they have a lot working against them, but they still have a stronghold on the millennials, and 120 million of them is not too shabby. But so far, we're sticking to iTunes and Facebook. Sorry, Rupert!