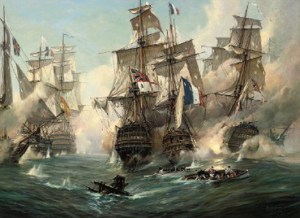 Derek George Montague Gardner (1914–2007) was one of the finest British marine painters of the 20th century, and his work continues to fascinate collectors on both sides of the Atlantic. He fought as an officer in the Royal Navy in World War II and, in 1942, was mentioned in dispatches for his distinguished service. He left the service as a commander in 1947, due in part to deafness that was a side effect of the storming of Algiers. As an entirely self-taught painter his success lay in the ability to portray ships with great accuracy, while also conveying the colour, luminosity and drama of wind and sea. Time was of no consequence, the end result was everything, as he said at the tender age of 90: "I'm never in a hurry. Fools, after all, rush in. You can learn such a lot when you paint a new picture providing you take the time and the trouble."
Gardner's interest in Lord Nelson and Trafalgar stemmed from reading Robert Southey's Life of Nelson, and he painted many moments of the great admiral's life over the years.
Trafalgar was the culmination of Nelson's campaign to bring the French fleet to action, which proved long and frustrating. His strategy was simple, as he stated: "The business of the English Commander–in–Chief is first to bring an Enemy's fleet to battle on the most advantageous terms to himself; and secondly to continue them there until the business is decided." At Trafalgar, to compensate for the enemy's numerical superiority, Nelson evolved his celebrated strategy of breaking the French line in two places. The most serious disadvantage to this strategy was that his own flagship Victory would be under intense fire for well over half an hour before being able to reply.
In these two illustrated works Gardner shows the period after the French lines have been broken. Victory is shown locked with the French Redoubtable with Temeraire simultaneously engaged on the other side.
Nelson was shot and fatally wounded in this duel with Redoubtable and it was only the intervention of Temeraire that decided the battle in the English favour. Gardner will go down in history as one of Britain's most accomplished maritime artists, and these paintings are a tribute to his fascination with Nelson and Trafalgar.
SALE: Maritime Art, King Street, London, 29 October
ENQUIRES: Jamie Rountree +44 (0)20 7752 3293
EMAIL: jrountree@christies.com
For more information please visit