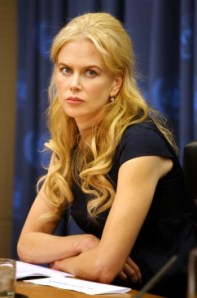 Is Nicole Kidman poised to be the next Indiana Jones? Well, not exactly. But the Oscar winning Australian actress has just signed on to star in and produce The Eighth Wonder for 20th Century Fox.
Based on a pitch by screenwriter Simon Kinberg (Mr. & Mrs. Smith), Wonder will deal with an "archeological discovery that sets off a globe spanning race" (is there any other kind?) Fox is hoping The Eighth Wonder will be to Indiana Jones what the Bourne movies were to James Bond.
Forgive us for being skeptical, but this sounds like it might be a bad idea. Not the Bourne-ization of all films, per se. We're in favor! Rather, it's just the combination of Mr. Kinberg and Ms. Kidman that has us worried.
First of all, with the exception of the wildly fun  Mr. & Mrs. Smith, Mr. Kinberg's writing credits are scary: XXX: State of the Union, X-Men: The Last Stand, Jumper, and the upcoming Night at the Museum sequel. If you just threw up in your mouth a little bit after reading that list, you're not alone. And Ms. Kidman is certainly not the first name, second name, or even tenth name you'd think of to star in an ass-kicking action-adventure, is she? Nothing against her, but we'd much rather see her countrymate Cate Blanchett in a role like this.
Still, The Eighth Wonder probably won't be all bad. Even a screenwriter as hack as Mr. Kinberg knows better than to have a main character swinging on vines with a bunch of monkeys in the middle of his movie.