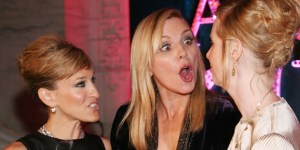 So here's a question: Will there ever not be Sex and the City-themed public-relations extravaganzas in New York City?
Last night marked roughly four months since the release of the undead franchise Sex and the City: The Movie, which means it was time for the release of the DVD, and therefore time to stretch a pink carpet the length of a city block down which stars Sarah Jessica Parker, Cynthia Nixon and Kim Cattrall—even Lynn Cohen, who plays Magda the maid–could march to the bloodcurdling screams of their obsessed fans.
Such was the scene last night outside of the New York Public Library to celebrate the fact that we can now go home and watch the movie over and over again. Magda was popular! And she and the rest of the girls seemed cheerfully resigned to signing yet more pieces of Sex bric-a-brac.
"What did you think of the fashion?" the red-carpet reporters belted out to the actresses as they made their way up the pink carpet, just as though they could still break news about the movie everyone has seen. "What was the set like when you were filming?"
Towering over the steps of the library as you entered the party was a model on stilts dressed in a 12-foot-tall version of Carrie Bradshaw's Vivienne Westwood wedding gown. She greeted the guests pretty much for the duration of the party.
So, do the stars of the movie ever get sick of this?
"No, we are so grateful!" said Willie Garson, who plays Stanford Blatch. "To take a $60 million movie and make it into $500 million, I'll give the fans whatever they want. That's why we're hustling out this DVD, we're done torturing them."
Or are they? Fans twittered–well, they probably Twittered, but twittering existed before Twitter!–about a sequel that either hopefulness or movie-studio publicity canniness had catapulted into full-on rumor status. The latter, probably, since the actresses happily engaged in counterfactual speculation about the "future" of their characters.
"Samantha is single so the sky is the limit!" squealed Ms. Cattrall, outfitted in a purple velvet pantsuit that made her look a little bit like Prince. "I love Samantha single."
"I'd like Stanford to find a life partner or at least find a very old woman to take care of him," said Mr. Garson.
"In the sequel, I want Brad Pitt to play my boyfriend!" said Mario Cantone. "Why not? He gave $100,000 to turn over the California' gay marriage law. So, there! He should play my boyfriend."
But even more of a topic of conversation was perhaps the young-adult novels that Candace Bushnell has just signed on to write for HarperCollins' children's division. It's the prehistory of Carrie.
"It's too soon to talk about it," said Ms Bushnell rather sensibly when Daily Transom stopped her on the carpet last night.
But Mr. Cantone already had some idea of who should and shouldn't play the young Carrie.
"I hope it's not Miley Cyrus. I don't get her, but I'm like 90 and I'm not a little girl," he said. "I think Lindsay Lohan is really, really talented. It's upsetting that she's clumped in with those other girls. She's a really good actress. I mean it!"
One reporter asked if Mr. Cantone might find his way into the prequel.
"I'll be too old, they'll have to animate me," he said. "Maybe I'll play my father. Ha!"