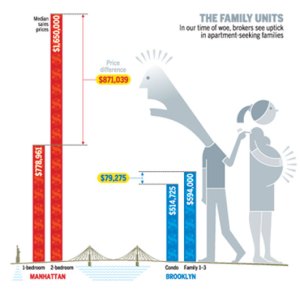 Laurie Silverman, a Halstead Property executive, has noticed a peculiar shift in the demographics of her apartment-buying clientele: More and more young married couples, some pregnant or with young children, searching for larger, family-friendly living space.
There's a shared sense of urgency amongst all her clients. "What we are seeing walking through the door these days," Ms. Silverman said, "are people who really have to move."
The rush of space-hungry families comes at an uncertain time. The chaotic economy has tossed the local real estate market into an unfamiliar limbo, as buyers and sellers stand on either side of the proverbial junior-high dance, hoping the gulf between them narrows.
Expecting families, of course, don't have this luxury of time. For them, finding an apartment is a necessity, and an expensive one at that. The median sales price difference between a one-bedroom and a two-bedroom apartment in Manhattan for the second quarter of 2008 was $871,039, according to appraisal firm Miller Samuel. Even with the heavy premium put on space, the distressed local economy and the difficult mortgage environment, young families are out there—more of them than ever, actually—braving the various elements in search of that perfect family unit.
In addition to the child-toting families, brokers are doing brisk business with clients relocated to New York jobs. But unlike new-to-New York clients, young families and expecting couples have a greater incentive to buy and are potentially more averse to renting.
According to Jill Sloan, a Halstead broker working primarily on the Upper West Side, families are "buyers who are going to pull the trigger for sure." Like Ms. Silverman, Ms. Sloan has noticed a relative increase in the number of young families searching for bigger space, though not quite as dramatic as the boom downtown. "These are certainly the buyers that I usually work with," Ms. Sloan said. "Walk up Columbus Avenue and all you see is baby carriages and people who are expecting."
The Upper West Side has always been something of a mecca for young couples, but the surprise might be the expanding repertoire of family-friendly neighborhoods. Ms. Silverman works primarily in downtown neighborhoods like Tribeca and Greenwich Village, and she has recently helped several couples move into larger living spaces. She also notices a spike in the number of young families at open houses, trying to "figure it out."
There has been a dramatic increase in the number of mostly wealthy families moving to New York. A recent Boston Globe article noted that the number of children uner 5 years old living in Manhattan has jumped by 30 percent since 200.
Andrew Beveridge, demographer and professor of sociology at Queens College, has been tracking the dramatic influx of young families into New York for several years, and has chronicled the baby boom in The New York Times and elsewhere. "There is no two ways about it," Mr. Beveridge said of the increase in young families, "there has been a big uptick in this." Many of these arrivals are white, upwardly mobile professionals who can afford New York's inflated costs of living.
The question now is whether this trend will continue in a dismal local economy.
"I think this trend will probably continue," Mr. Beveridge said. "There is no real reason that they would be any worse off than other groups during the downturn; and if prices soften, it will be easier to stay in the city."
ohaydock@observer.com