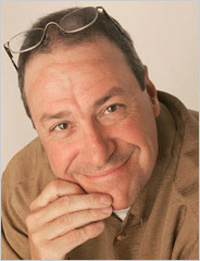 After initially turning down his offer and sending their book proposal out to other publishers in hopes of getting a higher advance, Joe Nocera and Bethany McLean—of The New York Times and Vanity Fair, respectively—have agreed to write their account of the crisis on Wall Street for Adrian Zackheim at Portfolio, the business imprint of Penguin Group USA.
Theirs is the third book on the crisis that Penguin Group USA has signed in approximately 48 hours. The first was Roger Lowenstein's Six Days That Shook the World, which Ann Godoff at Penguin Press acquired Wednesday; the second was Andrew Ross Sorkin's Too Big to Fail, which Viking won at auction yesterday afternoon for what several sources said was a sum in the high six figures.
All the authors involved, with the exception of Ms. McLean, work for The New York Times: Mr. Nocera as a business columnist, Mr. Sorkin as a financial reporter, and Mr. Lowenstein as a contributing writer to The New York Times Magazine.
Portfolio is also publishing a book by Wall Street Journal reporter Kate Kelly focused narrowly around the collapse of Bear Stearns. That book was acquired in June and is set to be published sometime next year. According to Will Weisser, the associate publisher of Portfolio, Ms. Kelly's project will be unaffected by the imprint's acquisition of the Nocera-McLean book, which he said is expected to be ready for publication in 2010.
It's unclear to what extent the three books Penguin Group signed up this week will compete with one another, though Ms. Godoff said Mr. Lowenstein's will most likely come out before Mr. Nocera's and Ms. McLean's.
Mr. Weisser said that while it's "certainly an interesting situation," Portfolio is not concerned about the possibility that their book will interfere with the other two coming from Penguin.
"We collectively—the authors, and the agent, and Adrian Zackheim—we've all made a collective choice that we're not going to worry about who else is publishing books and when they're publishing them," he said. "We're just not going to worry about it."
"The goal here is quality and permanence, not speed," he added, in reference to the Nocera-McLean project, "This is not about the race to the bookshelf. … Other people will make other choices."
Mr. Nocera said he did not know anything about when the three books would come out relative to each other.
"Andrew's a good friend of mine, and he sits right in front of me and we talk all the time, but I'm not talking about what I'm doing and he's not talking about what he's doing, which is as it should be," he said. "Roger's a great reporter and I'm sure he'll write a great book, but I'm sure we'll write a great book, too."
Separately, Ms. McLean said that the book she and Mr. Nocera want to write will focus not just on Wall Street but on Washington—something publishers told them set their proposal apart from the deluge of others they received this week.
"I think we see it as a book both about politics and about money," Ms. McLean said. "We also see it as a scandal that is many ways kind of a continuation of what happened at Enron. I hate always going back to that because it makes me sound like a one-trick pony, but there are a lot of shocking parallels, and it's interesting that so many of the lessons of that debacle went unlearned."
Mr. Nocera and Ms. McLean—who worked together at Fortune for many years—decided to write a book together about two weeks ago, the day Lehman Brothers declared bankruptcy and Merrill Lynch sold itself to Bank of America. The project was conceived at Ms. McLean's home in Chicago; Mr. Nocera was in town to attend a conference, and had asked Ms. McLean if he could use the spare room in her house to bang out a column he owed his editor at The Times. Mr. Nocera had some time to kill before his flight back to New York, and over a bit of white wine he and Ms. McLean got to talking about how much they wanted to write the definitive account of the crisis currently tearing through Wall Street. They decided to team up, as they had not long ago when Mr. Nocera helped edit Ms. McLean's book on the Enron scandal. A proposal was drafted shortly thereafter, an auction was initiated on Wednesday, and according to Mr. Weisser, the deal with Portfolio was struck yesterday afternoon.
Both Ms. McLean and Mr. Nocera have published with Portfolio previously. It's unclear what kind of advance Mr. Zackheim offered them when they brought him the proposal for this collaboration—none of the principals would comment on numbers—but publishers who saw it this week said the agent overseeing the sale, Liz Darhansoff, said she had turned down a $1 million floor.