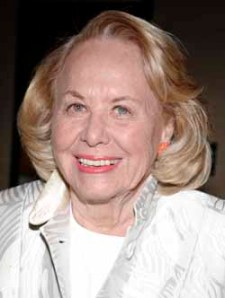 Yesterday evening was Liz Smith's socialite-studded Fete de Swifty—a silent-auction-based benefit held in a tent on 73rd street.
Under the tent, wait staff wandered between partygoers with plates of maple bacon. Wax likenesses of Bono and Tina Turner were donated by Madame Tussauds and positioned for Poloroids. There was an ice cream stand, a photo booth, a caricature guy and an extensive seafood table with a large dripping seahorse ice sculpture.
I met Ms. Smith by the front opening of the tent (near the ice cream stand). She was wearing a white and blue polka-dotted jacket and slipper shoes with tiny etched devils in them. She smiled, shook hands, and hugged most of the arriving guests, cameras snapping. I asked Ms. Smith if she thought she'd make her usual Fete de Swifty numbers in light of all the Wall Street commotion.
"We'd like to make over a million dollars, I don't know if we will, but maybe. We do get better every year. Of course though, with economics as they are …" She shook her head slightly.
Then I asked her about Lehman Brothers.
"You know, I don't even know what to say about that. It's so horrible. I'm so furious because they let it happen again. They talk about regulations … They've been warned over and over for months …for years. Oh! Here's my friend Dina!" Ms. Smith wandered off to hug Dina.
Around 7:30 the lights in the tent dimmed momentarily and Mayor Bloomberg appeared with Ms. Smith on the small central stage inside the tent. He addressed the party.
"Ladies and gentlemen, I want to welcome all of you to my favorite annual fund-raiser in a tent on 73rd Street! We had the U.S. Open a couple of weeks ago, tonight's Swifty's. We have the Mets … the Yankees final game at Yankees Stadium on Sunday night. I'm sure you'll all be there, but tonight I want to say thank you to you for supporting the Mayor's Fund, so thanks, New York!" He then introduced Ms. Smith as "one of the most wonderful women [he has] ever met" and she took the podium to speak:
"Ladies and gentlemen, we're all here, we're eating and drinking, we're rubbing elbows, we're exchanging cards. But I think we'd all be very proud if you could visit one of the anti-violence centers in Queens and the Bronx—I mean in Brooklyn, we're gonna build one in the Bronx, we're gonna build a lot of them. I have a feeling we need one right here in Manhattan. But anyway, that's the serious part of this. It's just great, the mayor is so wonderful to work with and if there were more men like him in America, we wouldn't be in the dilemma we're in right now!" The surging crowd exploded, applauding, and Mr. Bloomberg took the microphone again to thank several people and Ms. Smith again.
"You know, " he said, "not everyone is as lucky as us … and Liz does a good deal for people, as much as anybody I ever met."
After a photo op and an announcement about the raffle for two stadium seats from Shea, the crowd dissipated and the Daily Transom found Ms. Smith again near the front entrance. She called us over to meet Joan Collins, who was in the middle of being whisked away somewhere else. Ms. Collins wore an open-ruffled bodice-type shirt and trim skirt. I asked her if she had any particular reason for attending.
"Well, why does anybody come?" Ms. Collins said, smirking, walking away. "For fun and for friends and to celebrate Swifty!"
(This year's honorary chairs: actress Nicole Kidman, designer Calvin Klein and Law and Order SVU's Mariska Hargitay. None of which were present. There were reports that Ethan Hawke and Debbie Harry showed, but they are not confirmed.)