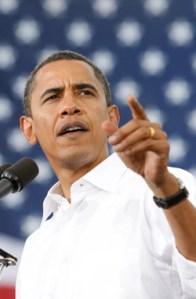 Regrettably but predictably, the success of Barack Obama has revived traditional knee-jerk racism on the American far right – and the latest examples are more blatant than latent.
In Michigan, right-wing operatives are seeking to aggravate white Democrats by linking Obama to Kwame Kilpatrick, the disgraced mayor of Detroit who leaves office today in a deal with prosecutors that included pleading guilty to two felony charges of obstructing justice. A brief clip of Obama praising Kilpatrick last year, long before his indictment, is the centerpiece of an inflammatory ad appearing on cable channels in Macomb County outside Detroit, where white Democratic voters reside who may be susceptible to such appeals to prejudice.
Behind the ad is "Freedom's Defense Fund," a Washington-based PAC that is actually the front for a group of Republican consultants affiliated with an outfit called BMW Direct Inc. They specialize in racial politics, having put together a dubious "Black Republican PAC" that deploys African-Americans to attack Democrats.
The Kilpatrick ad's aim is simple: To brand Obama, in the minds of white voters, as the kind of black politician they dislike. The Democratic nominee's ties with Kilpatrick have always been minimal – in fact, the Detroit mayor publicly questioned Obama's racial identity early in the primary campaign. Certainly their connection is more tenuous than the close alliances between — for example — indicted Alaska Senator Ted Stevens and his old friend Sarah Palin, or sleazy Arizona Representative Rick Renzi and "reformer" John McCain, who vouched for Renzi's integrity in a robo-call to voters long after everyone knew he was corrupt. (Currently under federal indictment for fraud, conspiracy, and money laundering, he has pleaded not guilty but retired from Congress as he prepares for trial.)
But why should any of that matter to a Republican operative trying to create the next Willie Horton?
Expect the most obnoxious racism to masquerade as humor, in the same vein mined by Rush Limbaugh and Don Imus. Last week, religious right activists attending the Values Voter Summit in Washington flocked to a booth hawking "Obama Waffles" – souvenir boxes of waffle mix featuring an Aunt Jemima-style cartoon caricature of the Democratic nominee with shining oversize lips and wide bulging eyes. Selling for $10 a box, the satirical item includes a drawing of Obama in Arab costume ("Point toward Mecca for tastier waffles") and a rap poem.
When the honchos running the Values Voter Summit realized that the Obama Waffles booth was generating bad publicity, they invited the clever entrepreneurs from Tennessee who were selling the offensive novelty item to leave. What may be most interesting about Obama Waffles from a psychological perspective, however, is the background of their chief creator, Bob DeMoss, an evangelical activist and writer. Perhaps best known for writing several books with winger eminence Tim LeHaye, DeMoss is also the author of Sex and the Single Person, a heartfelt volume extolling his long struggle against his own baser instincts.
From the first chapter: "I know in my heart God calls me to wait. Yet the hormones lighting a fire in my libido put even the strongest commitment to chastity to the test. Thankfully, by his grace, I'm still a virgin at thirty-seven – even if at times I feel like the last American virgin." He goes on to warn that "French kissing" can cause a "lethal disease."
Yes, he's the original 40-year-old virgin.