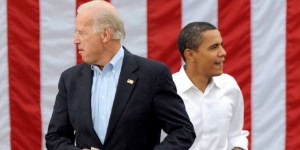 FREDERICKSBURG, Va.—Barack Obama seemed to be on the verge of paying for 12,000 rain-soaked people to have their clothes cleaned here last night—but he soon thought better of squandering his money that way.
"I'd like to cover everybody's dry cleaning bill tonight, but I can't cause I gotta use it on the campaign," Obama told the huge crowd at the University of Mary Washington. "So consider it one more small contribution to our effort to change the country."
The audience had been drenched by an earlier downpour and lighter but steady rain resumed minutes after Obama began speaking. University police meanwhile estimated that a total of 26,000 people had turned up for the event, 14,000 of whom had to be turned away. That statistic seemed to augur well for Obama's efforts to win this key battleground.
The most recent major poll from Virginia, released by Rasmussen on Friday, gave him a lead of five points over John McCain. He began his speech last night by saying, "I think we may just turn Virginia blue this time."
The Democrat for the most part hewed close to his standard lines of attack against John McCain, highlighting his opponent's links to lobbyists, accusing him of offering nothing other than an extension of the Bush administration's policies and cynically demonstrating a newfound enthusiasm for increased regulation of Wall Street.
He described McCain as having been, in the last few days, "an awful lot different to how he's been the last 26 years." Tying all his attacks on McCain together, Obama later added, "I am running for president of the United States because the dreams of the American people are too important to have eight more years, or four more years, or one more year, of this nonsense."
Attempts to put the most favorable spin on Friday night's presidential debate continued throughout the day, with aides to both candidates cognizant that no clear consensus about a winner had emerged. Obama adviser and traveling press secretary Linda Douglass told me here that, "I think it is really beginning to sink in with those of you who write about the debate that he [Obama] won last night. Clearly the voters concluded that he won in all the polling that was done."
Referring to McCain's frequent repetition of the accusation that Obama "just doesn't understand" various issues, Douglass said that it was McCain who "doesn't get it." She added, "He can use insulting phraseology if he wants to. It didn't go over very well with the voters, by the way."
Obama was joined by Joe Biden here, and the vice presidential nominee worked his way through a brief, punchy speech that excoriated McCain and was devoid of the peculiar ad-libs that have sometimes gotten him in trouble. When Obama took the mic, however, he felt the need to warn Biden to move the stool on which he was sitting further away from the rear lip of the stage. "I don't want to have to choose another vice president," he said amiably.
Obama ended his address by using the weather as a metaphor.
"This won't be easy," he cautioned. "The storm hasn't quite passed yet. Sometimes the skies are cloudy. You think the rains will never pass. But here's what I understand: that as long as all of us are together, as long as we are all committed, there is nothing we can't do. … These young people know that these clouds will pass and a brighter day will come."
Also among the crowd at the rally was Bill Day, the Democratic challenger to Republican Congressman Rob Wittman. Wittman represents Virginia's First District, which includes Fredericksburg.
Day talked about the presidential candidate's likely effect on his own race.
"There will be huge coattails from Barack Obama," Day said. "He has empowered groups of people who have never been empowered before. The Commonwealth of Virginia ordered an additional 200,000 voter registration forms just last week. It's not just because of Barack Obama, but he's a huge part of it."