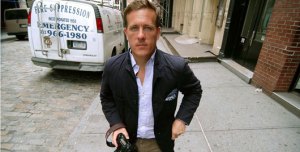 For two years, Kelly Cutrone, the brash headmistress of public-relations firm People's Revolution and frequent guest star on MTV's The Hills, has banned Julie Fredrickson, editor in chief of Coutorture.com, from her fashion shows. In a well-publicized incident that was covered from MSNBC to MediaBistro.com, Ms. Fredrickson said she quietly asked Vogue editor in chief Anna Wintour if she could get a video interview at Costello Tagliapietra's Fashion Week show in Bryant Park in September 2006. Ms. Wintour agreed, but after just two questions, "Kelly went apocalyptic on me and told me to get away from Anna immediately," Ms. Fredrickson said. This is what happens when you are a blogger who crosses a publicist.
"Oh, this is one of my favorite stories," Ms. Cutrone said in a raspy voice over the phone on Labor Day Monday. "I was just telling a bunch of interns about this at 3 a.m. last night." Ms. Cutrone explained that Ms. Wintour had shown up an hour early to the designer's show and that she wanted to accommodate her carefully. "As a producer, you live in fear of things like this happening, of an editor getting bum-rushed for an interview that they clearly did not approve or want to do," she said. Ms. Frederickson had rights under Fashion Week's video policy to ask for the interview from Ms. Wintour, but she didn't check with Ms. Cutrone first.
"I kind of feel like, 'Hey, you know what? You're 22, you're poorly behaved, you made my life a living hell,'" Ms. Cutrone added. "I don't care about these people who are trying to further their own career off my back. I don't need that."
Ms. Cutrone isn't the only publicist still flummoxed by what to do with, and where to seat, the fashion bloggers and photographers who are still struggling for a toehold in Fashion Week. With nearly 100 designer collections for spring and summer 2009 showing over eight days beginning Sept. 5, it would seem like there'd be plenty of room for anyone who cares about fashion even the tiniest bit to find a slice to make their own, whether for a Tumblr or for Tatler. But we all know this isn't how things work. And publicists still worry about Web writers causing friction when they bump elbows with celebrities and VIP R.S.V.P.'s from glossy magazines at their designers' shows. Who knows what such fashion-obsessed, outer-borough riffraff might do!
Even trusted fashion-industry darlings, like Scott Schuman, who left his job as director of the men's fashion department at Bergdorf Goodman in 2005 to nurse his sick daughter and take digital pictures for his Web site, TheSartorialist.com, and Style.com, has found that PR companies "look down their noses" at him.
When he returned to the runways four years ago as a blogger rather than a buyer, "you could see them kind of looking at me like, 'Whatever,'" Mr. Schuman explained over the phone. "There's such a class system. Editors are here and treated a certain way and photographers are treated a certain way, and friends of the family are treated a certain way. In the beginning it was confusing to them because they were like, 'Is he a photographer? Is he an editor?'
"I'm probably a pain in the butt because I'm going in and out of the venue taking pictures," he added.
Natalie Hormilla, Fashionista.com's associate editor, has had similarly lukewarm responses from publicists in the past. "Are we getting front-row seats at Ralph Lauren? No," she said over the phone. Sometimes she can get good seating at smaller designers, she said, when there are empty front-row spots because more notable guests didn't show up. And that helps with getting the snapshots for quick posts.
"When you're a blogger, you need to take pictures, so technically you need front-row seats more than the people who are just writing about the clothes," Ms. Hormilla said.