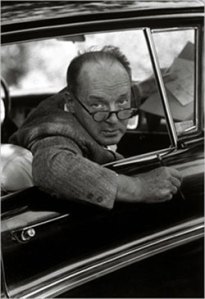 Devout fans of Marilynne Robinson—those still astonished, nearly three decades later, by the poetry of Housekeeping (1980), and those who made the Pulitzer Prize-winning Gilead (2004) into an unlikely best seller—will be thrilled by Home (FSG, $25), which is essentially a second serving of Gilead, though a trifle less intense, softened by the gentle presence of a female protagonist. We're back in Gilead, Iowa, in the mid-1950s, and we're as drenched as ever in religion; once again there's a father figure who's a preacher, and a complex father-son bond—but this time there's also Glory, a 38-year-old daughter who's come home to care for her father, and ends up caring for a black-sheep brother who's drifted home, too.
Is the beauty of Ms. Robinson's writing any less piercing this time around? Judge for yourself.
Here Glory discovers in the attic a stash of her father's old shirts: "She found them in a cedar chest, laundered and ironed as if for some formal event, perhaps their interment. They had changed to a color milder than white, and there was about them, besides the smell of time and disuse, of starch and lavender and cedar, a hint of Old Spice that brought tears to her eyes."
Here Glory and her brother listen to their aged parent in the next room: "They heard a stirring of bedsprings, then the lisp lisp of slippered feet and the pock of the cane."
ADAM THIRLWELL, WRITING in The Guardian (www.guardian.co.uk) with his usual zest for quirky detail and loopy disregard for the obvious, drew my attention to the weird and weirdly compelling Canadian Broadcasting Corporation archive footage of Nabokov discussing Lolita with Lionel Trilling in the mid-'50s. (It's on YouTube, in two parts—go watch it!) Mr. Thirlwell focuses briefly on the back and forth between Nabokov and Trilling ("a sweet looking man") and then veers off onto another topic.
But let's stick with the video: What a time warp! The haphazard clutter of the set—or is it actually on location in some low-rent gentleman's club? Sweet-looking Lionel Trilling puffing away on his cigarette. A disheveled Nabokov squirming in his armchair, and later on the couch, shuffling aimlessly through a collection of index cards, proving that he is, as he claimed, "a wretched speaker." The host, a bald, bow-tied talking head, clearly bewildered by the two geniuses in his care. A seemingly unrehearsed conversation (but what about those index cards?), shambolic and somehow desperate, as though this were the last, doomed attempt to rescue Lolita from the clutches of prurient philistines—the whole scene is as far removed as you can imagine from the air-brushed good cheer of author appearances on today's television.
"I pride myself," Nabokov told reporters in 1962, "on being a person with no public appeal." Right—but that doesn't make him any less fascinating.
KEATS BEGINS "TO AUTUMN" with a soothing line, "Season of mists and mellow fruitfulness," and by the end of the stanza, he's visiting the bee in its "clammy cell," which summer has "o'er-brimm'd" with honey. That's the way fecund nature is supposed to work.
In his very scary Fruitless Fall (Bloomsbury, $25), Rowan Jacobsen explains in layman's terms and with a rising urgency why autumn's mellow fruitfulness won't happen unless we take better care of that industrious pollinator Apis mellifera, the honeybee. To write his book, Mr. Jacobsen had to take a "bee's-eye view of the world," but the result is surprisingly human: It's the story of a close and enduring partnership that crashed in 2006 with the onset of colony collapse disorder.
I know—the press of eco-concerns quickly leads to anxiety overload. But Fruitless Fall is a passionate sequel to Rachel Carson's Silent Spring, and we'd better listen up before we get to winter kills.