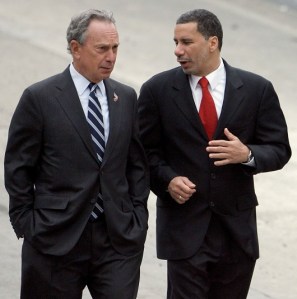 Governor Paterson put out a statement responding to Mayor Bloomberg's Wall Street Journal op-ed today, which called for the dissolution of the state-run Lower Manhattan Development Corporation.
Absent from the governor's 204-word statement: any mention of the LMDC.
Saying that he looks forward to a report on the World Trade Center redevelopment later this month, Mr. Paterson appeared to be putting off any decision either way on the matter until October.
Statement below.
I read Mayor Bloomberg's opinion piece in this morning's Wall Street Journal and I applaud the Mayor for his leadership on this issue. Mayor Bloomberg has been and continues to be a champion for and my full partner in rebuilding Ground Zero. The Mayor's op-ed this morning was an important contribution to our ongoing dialogue, reminding us that serious issues need to be addressed to complete the rebuilding our nation deserves. The Mayor and I share a sense of disappointment and frustration at the unacceptable pace of the Ground Zero rebuilding, which has never had a realistic timeline or budget – an absolute necessity for undertaking construction of this scale. That is why I have I have asked Chris Ward, Executive Director of the Port Authority, to do a comprehensive review of the process and issues necessary to bring certainty and progress to Ground Zero, including the abatement and deconstruction of 130 Liberty Street. I look forward to receiving that report later this month and sharing it with Mayor Bloomberg as we work together to drive construction of the Memorial toward completion by the tenth anniversary of September 11th, and bring the rest of the projects at the World Trade Center site to successful completion.