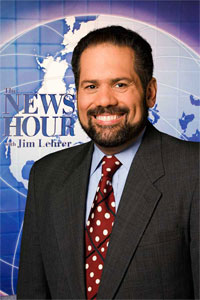 Tonight Jim Lehrer, host of PBS's The News Hour, will moderate the first presidential debate of the general election, which will take place at University of Mississippi in Oxford.
PBS will be one of nine networks broadcasting the debate tonight. With Mr. Lehrer in the moderator's chair, Ray Suarez will anchor PBS's pre- and post-debate coverage.
According to the network's release:
Jim Lehrer, Executive Editor and Anchor of The NewsHour with Jim Lehrer on PBS, moderates a debate that will focus on foreign policy and national security, at the University of Mississippi in Oxford Mississippi. Analysis by Shields & Brooks; reports from NPR reporters covering the respective campaigns – Don Gagne reports from the Obama campaign; Scott Horsley covering McCain; and perspective from presidential historian Michael Beschloss; Jeanne Cummings, senior correspondent at Politico; Clarence Page of the Chicago Tribune
Earlier this week, the Media Mob asked Lester Crystal, the president of MacNeil/Lehrer Productions and the former executive producer of The News Hour, why viewers, given all the choices tonight, should tune into PBS.
"I think the attraction is what it has always been and what it was during the conventions," said Mr. Crystal. "That is, very astute analysis, and not trying to game it—who won, who lost—but what were the important points, what were the important circumstances. Really good sound analysis is what we bring to that."
"It's a civil tone," he added. "I think that's very appealing."
Today, PBS executives also announced that The News Hour will be launching a new series of reports focusing on battleground states.
First up on Monday night: Judy Woodruff reporting from Florida.
From the release:
Judy Woodruff will report from Florida on a range of issues including: the state of the local economy and its impact on the election; and the ground war – efforts by the McCain and Obama campaigns to get out the vote and register new voters.