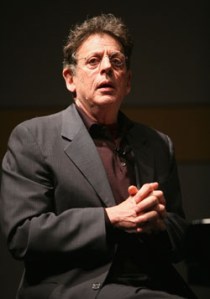 Philip Glass, the Academy Award-nominated classical/experimental composer who's collaborated with artists ranging from Errol Morris to David Bowie to Allen Ginsberg, will compose an opera based on the life and career of Walt Disney, the New York City Opera announced today. Based on the Peter Stephan Jungk novel Der König von Amerika, the opera—named, The Perfect American, for the English translation of Mr. Jungk's work—will be Mr. Glass' 24th, and is scheduled to open City Opera's 2012-2013 season. It will also coincide with Mr. Glass' 75th birthday.
According to a press release, "Peter Stephan Jungk's novel The Perfect American imagines the final months of Walt Disney's life as recounted by the fictional Austrian cartoonist Wilhelm Dantine, who worked for Disney in the 1940s and 50s. Through the prism of Dantine's European sensibility, and his feelings of admiration and resentment toward his boss, the novel presents a multilayered image of the mid-20th-century American dream."
The release also states that the City Opera's incoming general manager, Gerard Mortier, has scheduled a Philip Glass work for his inaugural 2009-2010 season—the first staged production in New York since 1992 of the landmark opera Einstein on the Beach, which will be the Opera's first production in its newly refurbished New York State Theater.
Of The Perfect American, Mr. Glass said in a statement: "The story of the last days of Walt Disney, American Icon and creator of perhaps the most pervasive fantasy world on our planet, is surprisingly gripping and at times disturbing. But, on the face of it, how could it be anything else? The pulse of his life has to be the pulse of our own American culture. And, like other aspects of life here, it is unimaginable, alarming, and truly frightening."